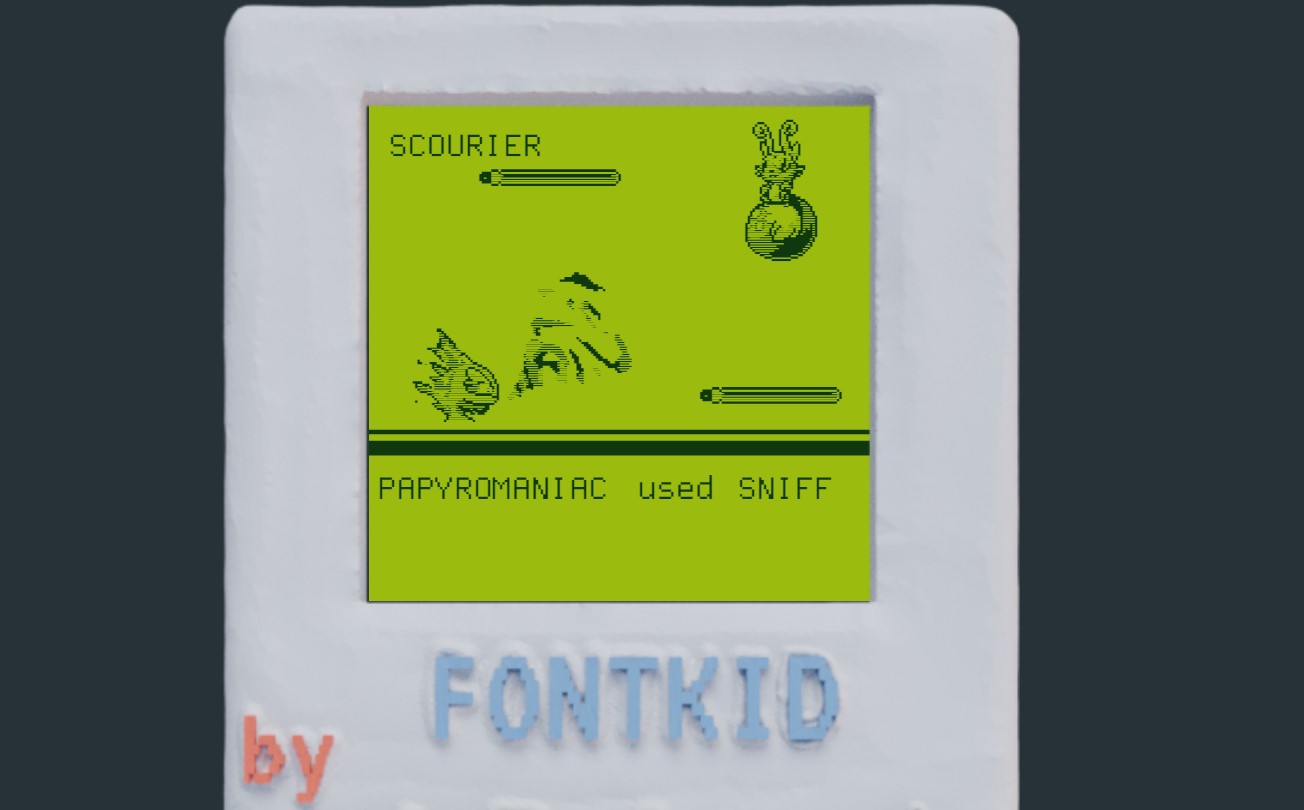 Fontemon is clever, free, and completely contained inside a 970 kilobyte textual style. It's inconceivable.
I just went through thirty minutes playing an interesting, pick your-experience variation of Pokémon that was worked inside a text style. It is anything but a simple idea to see, so I'll attempt to clarify. Ordinarily, when you hit the 'a' key on your console, it makes 'a' show up on the screen. That 'a' will be a glyph, and it appears to be unique relying upon the textual style you're utilizing. In wingdings, for instance, squeezing 'a' types this: ♋︎.
In Fontemon.otf, composing 'a' doesn't make a letter show up. It plays Pokémon (indeed, a short, shrewd Pokémon spoof, however close enough).
"I envision the normal english speaker thinks a text style is something like this: You type a key… [and] the letter shows up on the screen," composes Michael Mulet, who made textual style/game Fontemon. "Be that as it may, textual styles can accomplish such a great deal more. Much more."
In a post on Github, Mulet separates how Fontemon (and textual styles themselves) work. The abbreviated form is that in open sort, a well known text style design, there are in reality a ton of approaches to draw the letters, also known as glyphs, that show up on your screen. They don't need to be letters. At the most essential level, you compose code that figures out where to draw pixels on the screen, and Mulet controlled that to make full pictures, as Pokémon doing fight. Each time you press a key you advance to another picture, and by hanging together heaps of them, Fontemon takes on such a flip book quality. The quicker you type, the quicker your "framerate."
Each and every casing in Fontemon—every one of them 4,696—is its own individual glyph, simply a considerably more great one than the letter 'a.' To make sensibly nitty gritty designs Mulet mixed dark and white by drawing half-size dark pixels—the text style delivered will average the dark half with the white half to create dim. You can peruse more about how it functions in Mulet's Github post, however the game is great regardless of whether you don't have a clue why crushing irregular keys on your console makes it work.
I had the option to introduce Fontemon in Windows and get it to appear in LibreOffice, however the organizing was somewhat wonky. It's most effortlessly played in the program window Mulet made, however in case you're resolved, he shows it's feasible to play on your work area, as well in the event that you download the textual style.
While generally straight, Fontemon consistently compels you to settle on decisions by composing a particular letter, ordinarily to pick which assault to use in fight. Each assault is silly and a few made me laugh uncontrollably. There's no genuine system here—simply settling on decisions and afterward seeing the outcomes work out funnyly. Take this fight against the double danger of Sans-Scareif and Chiller, when I mistakenly decided to utilize my leaf assault: Verdanta utilizes LEA… stand by where did it go? It's behind you! AAAAAH! AAAAH! Aaa… "
In any case, that is OK, since you can just hit delete a couple of times to erase the letters you composed—recollect, each letter is propelling the game by a solitary screen—and return to pick an alternate assault. On the off chance that you truly need to detonate your cerebrum, return to any point in the arrangement of letters you've composed and embed another one to abruptly get the game starting there. It resembles time travel.
The entire game is really entertaining. It's set in the known Pokémon-substantial territory of Minnesota, for certain territorial jokes I didn't get and a great deal of textual style jokes I preferred, two of the starter Fontemon being named Papyromaniac and Verdanta.
Without ruining anything, there's a hint of Frog Fractions in here, as well. The completion I got, going down what I thought was a direct way, isn't the one and only one.
Fontemon would be a great method to go through 30 minutes regardless of whether it wasn't, extraordinarily, worked inside a text style. In any case, it is, and realizing that while you're playing it is quite stunning.
"I've generally told my companions this: 'In the event that you need to make a game, make a game. In the event that you need to make a game motor, make a game motor. Yet, never under any circumstance, make a game motor to make your game!'" Mulet composed on Github, clarifying that composing your own game motor prompts the interminable enticement of fixing and improving things instead of simply making a game.
I'm happy he didn't follow his own recommendation and made Fontemon in light of the fact that, as he says: "I needed to defy my own guidelines on the grounds that there are in a real sense no other textual style game motors in presence."